WE MOVED!
Head over to zombieprepared.org to see the new and improved site on zombie survival!
STAY ALIVE AND SAVE YOUR SPECIES. Be prepared and learn how to protect yourself from the living dead! Below is a comprehensive list of equipment you should have for the Zombie Apocalypse. Take the time to start preparing your zombie survival kit NOW!
Remember: Traveling light is essential for your journey. Below is a list of equipment that EACH individual should have. To see what groups should carry, see this page.
Our survival kit is perfect for any "survival of the fittest" situation. In order to make our recommendations, we have carefully chosen and researched each product listed. Check back often, this site will be updated when we find better gear and equipment. You're welcome.
[List updated September 13, 2013]
1. Backpack
First, you'll need a reliable and sturdy backpack to keep all your survival gear in. You'll probably want to find a hiking or military backpack as you will be traveling and will need something comfortable to wear the entire day. Here are some recommendations: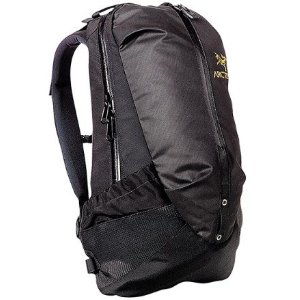 Arcteryx Arro 22 Backpack Black 22L
Now if you want to get really serious, get this bag. Listed at about $180, this bag isn't cheap, but Arc'teryx is a trusted brand and this bag can last through many years of rugged use. Designed for unbelievable comfort, the bag "has advanced materials and a distinctive design which makes the larger Arro both sleek and functional. Panel loading WaterTight zipper, stretch hydration pocket, and a tough Armourlite kangaroo pocket add an escapist aspect to this metro pack." Sounds like Arc'teryx knows how to prepare for the Zombie Apocalypse.
2. Dependable Hiking (or Combat) Boots
There are a lot great options for hiking boots out there. The most important is obviously comfort. One of the most important ways to achieve comfortable boots is to make sure their already broken in! It's important to take care of your feet… so you can haul ass. Here are some top options:
3. Two Pairs of Socks
Socks are just as important as shoes for your foot health! If you can, don't use ordinary socks. The recommendations below are socks that trap heat close to your body for exceptional insulation and provide superior moisture management.
4. Shirts (2)
We recommend 1 long sleeve and 1 short sleeve for layering. Below are some good options.
5. A pair of long pants
Preferably NOT blue jeans.
Columbia Sportswear Silver Ridge Convertible Pant
Our favorite choice. Omni-Shade UPF 50 sun protection, Omni-Wick moisture management. Quick-dry nylon ripstop is super lightweight and incredibly durable. Easy to clean, plenty of pockets. Also turns into shorts.
5.11 #74273 Men's TacLite Pro Pant
Lightweight 65% polyester and 35% poly cotton ripstop is treated with HT Teflon wear-resistant finish. These pants have pockets located for easy access to all of your gear, including an external knife pocket.
Blackhawk Men's Lightweight Tactical Pant
DuPont Teflon DWR (Durable Water Repellent) fabric treatment resists stains and dries quickly; double layering in seat and knees for added wear and protection; high-quality YKK zippers and Prym snaps. Plently of pockets.
6. Jacket
7. Warm, long underwear
Keep your ass warm.
8. Hat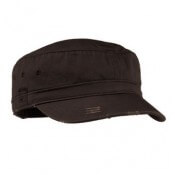 District Threads Distressed Military Style Twill Hat. Dt605
Some are probably wondering why a hat would be essential to your survival kit. Think about it. If you're mostly on the run and not at home, you will find use for a hat much more than you think. It protects you from the sun, rain, and can help keep your long hair out of your face.
9. Gloves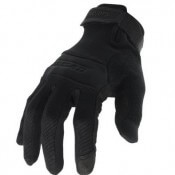 Ironclad Tac – Ops Gloves
You have to protect your hands. Without them, how can you shoot zombies or use your sword to chop their heads off? They can also keep your fingers warm. For these gloves in particular, the synthetic leather palm is padded for shock-absorbing protection and treated with DuPont Teflon for oil resistance.
10. Waterproof G-Shock Watch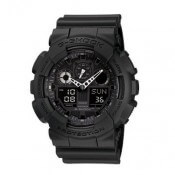 Casio Men's G-SHOCK – The GA 100-1A1 Military Series Watch
When the apocalypse comes, things will be chaotic. It is important to know when and what day it is when you're constantly on the run. That is why a watch is essential and you need something a lot more reliable than your iPhone. I personally own this watch and I highly recommend it to everyone. G-Shock is a technology that is known for its resistance to shocks. This watch is rugged, durable, and water resistant. It also features a stopwatch, light, and countdown timer. For something so important as what a watch provides, it would be ridiculous not to have it as part of your survival kit, especially since it will conveniently be on your wrist.
11. Water Bottle
Best if you get a wide-mouthed, quart-size water bottle.
Nalgene Tritan 1-Quart Wide Mouth BPA-Free Water Bottle
BPA-free, easy to wash, adaptable with most water purifiers and filters, and a cinch to open and close.
Nalgene Wide Mouth Cantene (32-Ounce)
The multilayered material offers stiffness and strength for stand-up capability, yet is soft and flexible to be folded or rolled. Accommodates all major water filters, leak proof system with loop-top cap.
Fury Mustang G.I. Canteen, 1 Quart Plastic Body
All Plastic Canteen 1 Quart with Cap, Lightweight Durable Construction, Rugged Cover with Alice Keeper Clips, Screw Top with Tether, Storage Pocket on Canteen Cover
12. Water-Purification Tablets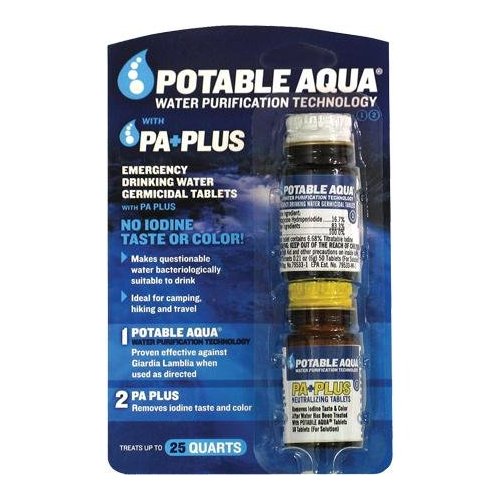 Potable Aqua Water Purification Tablets
Used worldwide by campers, hikers, militaries, emergency organizations, and anyone else who needs to drink water of questionable quality, these Portable Aqua iodine tablets will disinfect contaminated drinking water in a pinch.
13. LifeStraw Personal Water Filter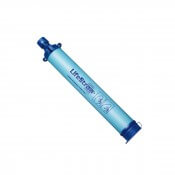 LifeStraw Personal Water Filter
At first, I was slightly hesitant to add yet another water related survival item, but the more I thought about it, the more I see it's importance. First of all, we can't survive for more than a few days (about 3) without water. We can survive many days without food (about 3 weeks). It will vary from person to person, but that is the average. When the apocalypse comes and things are chaotic, imagine how hard it would be to find clean water. This famous LifeStraw water filter is compact and VERY effective. In addition, it's only $20!
14. Sewing and Repair Kit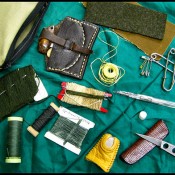 Sewing and Repair Kit
This may be one of the most overlooked items for survival kits. You need to be able to repair your essential items — something as tiny as a needle can come a LONG way. I recommend this simple and quick sewing quick that has all the essential items: needle holder, needles of different sizes, heavy duty straight pins, assorted safety pins, heavy duty thread, needle threader, metal thimble, Fresnel lens magnifier, brass repair wire, utility cord, cut tape, and more!
15. Firestarter
Best if you have 2 options.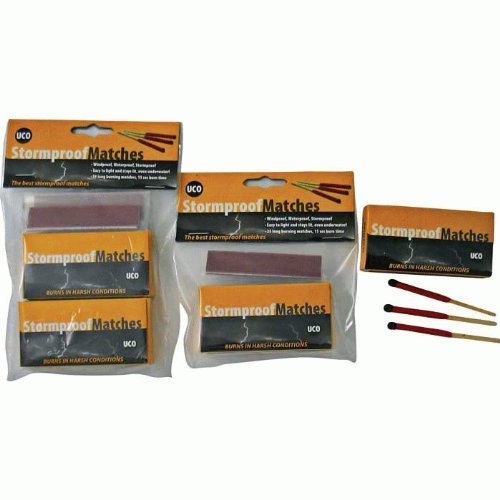 Wind and Waterproof Matches
UCO Stormproof Matches-Twin Pack (50 Matches)
Windproof, Waterproof, Stormproof UCO is pleased to introduce the ultimate Stormproof Match. Unlike other "waterproof" or "windproof" matches, the UCO Stormproof matches are easy to light, and will stay lit for up to 15 seconds, even after being submersed in water!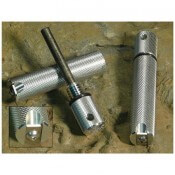 Firestarter Blades
Aurora Fire Starter 440C with Hardened Steel Striking Blade
If you run out of matches, this is a great back-up.This self contained fire starter is one of the best on the market. It can start a fire in just about any environment. Lightweight and designed to start a lifetime of survival fires.
16. Bandana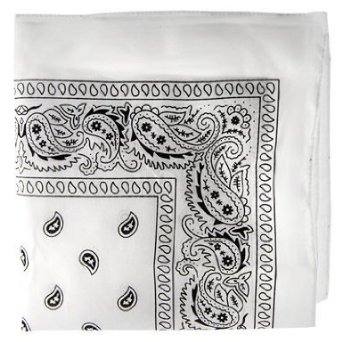 Paisley Cotton Bandana
A bandana is one of those things that is useful for a thousand things. It could be used as a neck gaiter for cold weather, pot holder, collecting wild edibles, washcloth, sweatband, gun wipe cloth, toilet paper, napkin, and soooo much more! We recommend keeping multiple bandanas – at least 2.
17. Hygiene Kit
At first, we weren't going to list the obvious everyday items that a human needs, but we decided that in order to make this a true survival kit that people can rely on, we are adding what most people would probably forget. Hygiene kits will vary upon each person, but we highly recommend including at least the following: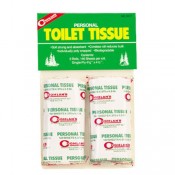 1. Toilet paper
2. Nail clipper
3. Comb
4. Toothbrush
5. Floss
6. Pads or tampons (women)
You may very well find you might want to add additional items, but just ask yourself if it's essential. Remember, traveling as light as you can is your goal. For example, I included a toothbrush and floss, but not toothpaste. Why? Because believe it or not, toothpaste is not actually necessary. I'd rather save room for something much more essential.
18. Map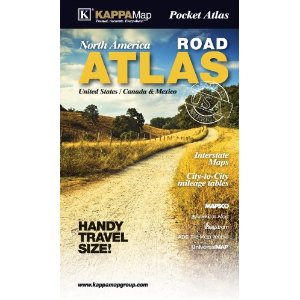 Find a map for YOUR area/country. For people in North America, we recommend the one below:
2013 North America Pocket Road Atlas
The 2013 full-color North America Pocket Edition Road Atlas offers an Interstate Highway Map and detailed coverage of all fifty states, Canada, and Mexico. Keep this handy, quick reference travel guide with you everywhere you go! This compact atlas features state and federal highways, major cities, national forests, and state parks.
19. Compass
Here are a few great options to help you navigate during the Zombpocalypse. It might even be good for you to start learning how to navigate with the night sky.
Military Prismatic Sighting Compass w/ Pouch
This compass has a 2-1/8″ dia face marked in 5-degree increments, a 1/4″ dia sight lens, 9/16″ dia bubble level, and a 1-1/2″ sight with crosshairs. Measures 3-1/4″ x 2-1/2″ x 1-1/8″ when folded and comes with an 18″ long cord and an olive drab belt pouch. For instructions, go to www.armystudyguide.com.
Priced around $10.
Silva Lensatic 360 – Compass
Used by military forces for its precisely accurate bearings in land navigation and directing artillery coordinates. Heavy-duty, powder-coated aluminum housing. Liquid-filled compass with 2? increments, sighting-slit unit/top cover, quality lens in sighting arm to magnify dial reading.
Priced around $20.
Cammenga Model 27CS Olive Drab Lensatic Compass
The phosphorescent lensatic compass has been used as an economical alternative to the tritium model for decades. It is the same compass CAMMENGA has been supplying to the US military except that the self-luminous tritium has been replaced with phosphoresc.
Priced around $50.
20. Small Flashlight
Unless you're a cat with special kitty night vision, you'll need a flashlight to help you see in the dark.
21. Poncho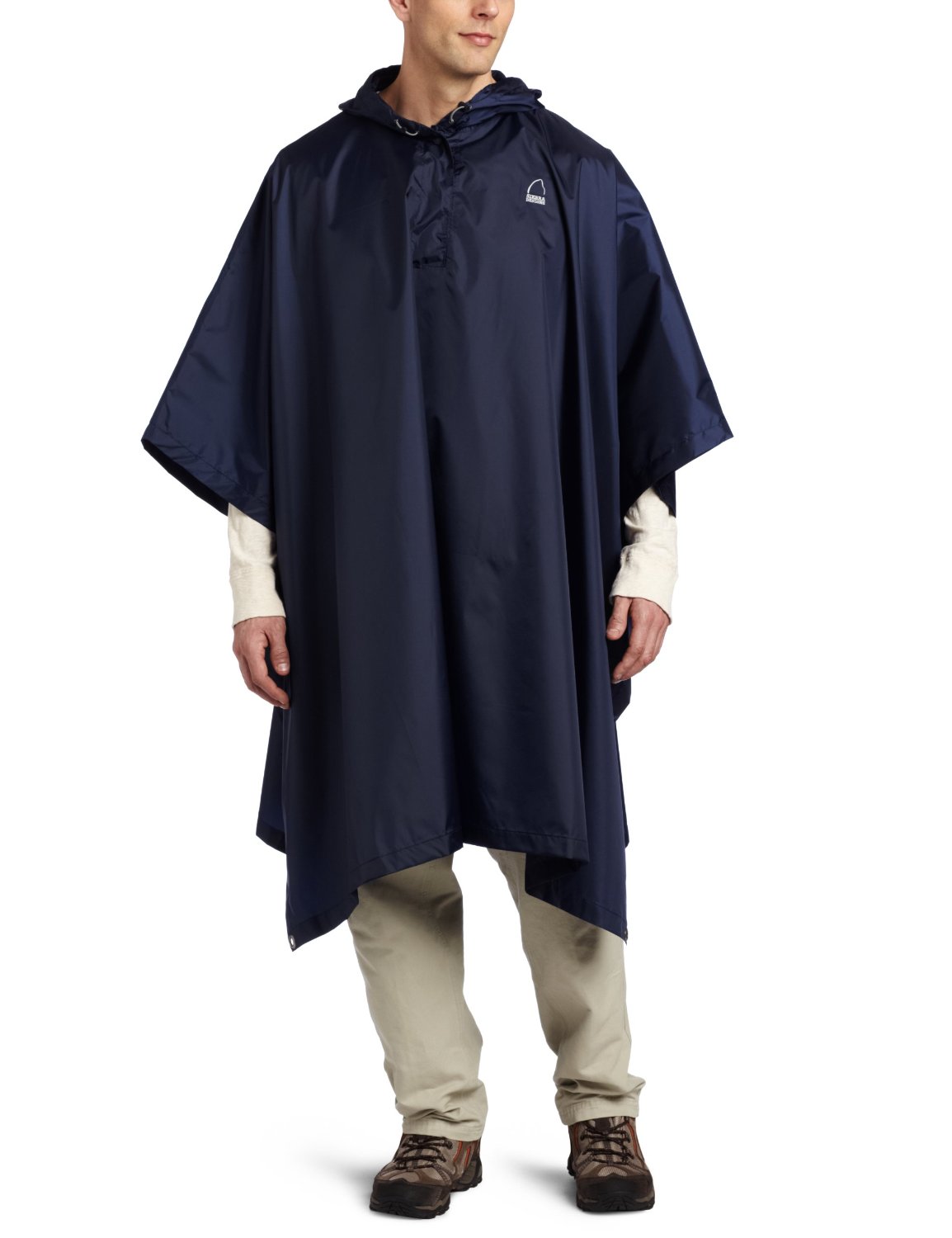 Sierra Designs Men's Storm Poncho, Large
Ponchos can be used in many ways: shelter, rain fly for your pack, wind deflector, rain catcher, keeping you and your stuff dry, etc. It would be awful to get all your shit wet!
22. Small Signaling Mirror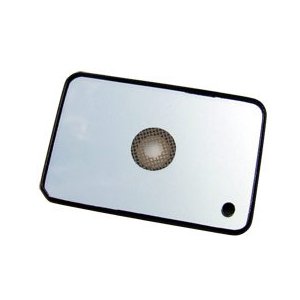 Military Glass Signal Mirror
This 2″ x 3″ glass signal mirror is one of the best day time emergency signaling devices available. The Military Glass Signal Mirror, made by S.I. Howard in the USA, is a military approved and issued item. The major difference between this signal mirror and so many on the market today is that this signal mirror is made of high quality glass. This means its reflectivity is higher than Lexan or plastic versions. If you find the need to use a survival mirror, we highly recommend this one over the many on the market today as it is time tested, durable and most of all, effective.
23. Sleeping Bag
We recommend sleeping bags that are compact and lightweight. You don't want something too bulky or heavy as you will be hauling it in your bag everywhere you go. You also don't want something too uncomfortable to sleep in every night. Getting good rest and sleep means proper rejuvenation to prepare for the next zombie attack.
24. Sunglasses
Make sure your sunglasses have polarized lenses. Polarized sunglasses block unwanted glare from pavement, water, ice and other reflective surfaces. They are also good for light sensitive eyes.
25. Small First Aid Kit
Protect yourself from minor/medium wounds.
26. Swiss Army Knife or Multi-Tool
27. Hand-Held Radio with Earpiece
Make sure you have an earpiece with the radio. Handhelds are important for portable communication.
28. Signal Flares
Orion Locate Handheld Signal Pack
Four day/night handheld red locator flares. Flares provide 3-minute burn time and 5-mile visibility.
Priced around $28.
Rescue Laser Light
The RLL012-01 Rescue Laser Light is a hand-held day and nighttime laser signaling device that provides a convenient, effective way to signal a rescue party. It's waterproof, rugged design combines the safety of a laser signaling device with the convenience of a flashlight.
Priced around $78.
29. Survival Kit Tin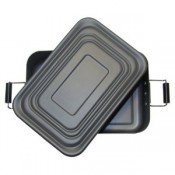 Aluminum Survival Kit Box
You'll need to store some things that need to stay water proof or safe. Because this box is made of heavy duty aluminum with a leak resistant inside rubber seal and positive locking roller clasps, your items will stay clean and dry, even in extremely harsh conditions. Since the box is food safe, use it to store just about anything.
30. Carabiner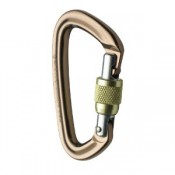 Black Diamond Positron Screwgate Carabiner
Carabiners are built to connect things together and can be used for many things. It can be used for holding you up while you're climbing, clipping things to your bag, tieing items down in or on a vehicle, holding heavy items, and so much more. This particle carabiner is recommended because it is used for climbing and can be used for heavy weight.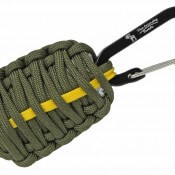 The Friendly Swede (TM) Carabiner "Grenade" Survival Kit Pull
I recently found this awesome little carabiner "grenade" by The Friendly Swede that I'm going to add here. I'm a big fan of
brilliant, compact survival kits. This high quality and tiny kit is perfect for any emergency situation when you have to improvise in the wild. It includes a carabiner, tin foil, tinder, fire starter, fishing lines, fishing hooks, weights, swivels, dobber, knife blade wrapped in 500 lb paracord.
31. Utensil
SE KC5006S 4-Inch Camping Steel Detachable Knife
You're not going on a picnic so don't expect someone to have plastic forks for you to eat with. You're essentially on your own even with a group so it's good to have this handy.
32. Personal Mess Kit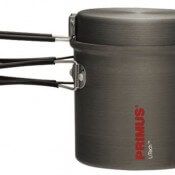 Primus LiTech Trek Kettle
It's easy to forget something so simple, yet necessary to have for yourself. With a personal mess kit, you'll be able to serve and cook yourself some food. We recommend this particular kit because it is compact, lightweight, can be used to cook with, and it can also serve as your personal bowl or plate if you're with a group. We believe in utilizing multi-purpose equipment. You're running from zombies so you don't have the resources to carry your kitchen with you. Be smart.
33. Duct Tape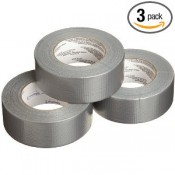 Intertape 5038-3 PK Fix-It DUCTape 1.87-Inches x 60-Yards, 7-Mil
"Duct tape is like the force: It has a dark side and a light side and it holds the universe together." – Carl Zwanzig. There are so many uses of duct tape, it's ridiculous (but it's not for something like this). Duct tape is great for emergencies: repairs to gears, temporary repairs to vehicles, medical treatments, water-proofing items, seal shelter to help make it waterproof, and so much more.
34. Rations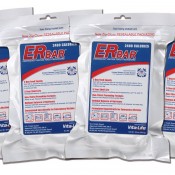 ER Emergency Ration 2400+ Calorie, 5-Year Emergency Food Bar for Survival Kits and Disaster Preparedness
Instead of listing a gourmet menu for you to choose from, we just want to recommend an emergency ration in case you are in desperate need for food. With a guaranteed 5-year shelf life, these make a perfect emergency food bar for survival and disaster preparation. Each pack contains six individual ready-to-eat 410 calorie rations and requires no preparation. Highly recommended. Around $25 for a pack of 4.
35. Knife
Having a personal knife like the ones below may not be the best zombie protection, but it is essential for all kinds of daily use. DO NOT settle for just any knife, pick one like your life depends on it. As a personal use knife, it might be best to stick with something that isn't too large or heavy. We listed our personal favorite knives below along with others with great reviews.
Smith & Wesson CKSUR1 Bullseye Search and Rescue Fixed Blade Knife
Overall length of knife is about 10 inches. This very sharp sexy knife has a durable sheath and comes with many different straps so you can attach it to pretty much anything. This knife will last long and it is a true piece of touch hardware. One of our favorites. The knife is a steal at $23.
Cold Steel GI Tanto Knife with Secure-Ex Sheath
Overall length of knife is 12 inches. This knife is a bit on the larger side. You get an amazing knife at a really great value. Very sturdy and durable. With a heavy, balanced feel, it throws easily. This knife will serve you well. Listed at around $27.
Smith & Wesson SWBG2TS Border Guard 2 Rescue Knife
Overall length of knife is 10 inches. One of my personal favorites. I like the touch of folded knives because of how easy it is to transport it with the need of a pouch. Only fallback some people may not like about this knife is that it's a bit heavy, but it's incredibly durable and sturdy. Priced around $27.
Gerber Bear Grylls Survival Series Drop Point Serrated Knife 31-000751
Overall length is about 7.5 inches. This one has crazy amazing reviews. At a very decent and manageable size, this knife is very ideal for your basic survival needs. This knife is perfect if you're not sure which one to get. Priced around $45.
SOG Specialty Knives & Tools E37S-N SEAL Pup Elite Straight TiNi Blade
Overall length is 9 inches. After surviving one of the most extensive test and evaluation programs ever undertaken by the U.S. Government, this knife triumphed. Priced at about $55.
Gerber 22-01400 LMF II Survival Knife
Overall length is 10 inches. This very strong knife can be used in practically any situation. The handle is designed to absorb shock. One of my favorite features about this knife is the buttcap – it can pierce class. This knife isn't the cheapest, but you get what you paid for. Priced at about $68.
36. Machete (Hand Weapon)
Here are some exceptional options.
37. Semiautomatic Carbine (Primary Firearm)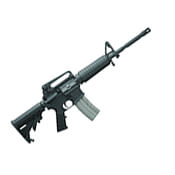 This weapon is a superior zombie killer. It is easy to waste ammunition with the semiautomatic, but if discipline can be maintained, you will not find a better weapon. For close combat or for people on the run, this weapon will serve its purpose. Carbine's tend to be lighter and easier to carry. Carry at least 50 extra rounds. Check out this blog post for recommended carbines.
38. .22-Caliber Rimfire (Pistol or Rifle) (Secondary Firearm)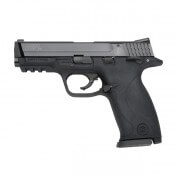 .22's may not seem substantial in a normal circumstance use, but in an attack by the undead, this weapon stands proudly alongside heavier and bigger pistols. The small size of its rounds allows you to carry three times as much ammunition. The weapon is also lighter, which is very convenient. In addition, ammunition for this weapon should be plentiful throughout the country. Carry at least 25 extra rounds. Check out this blog post for recommended .22 pistols.
Do you have suggestions on zombie equipment/gear? We encourage community participation so we can all help each other prepare better. Please contact us if you have any suggestions, comments, or even blog posts you'd like to share.